Next Day Delivery
Free UK Shipping
30 Day Returns
Set them up, plug them in and go
Did you know that you can be up and running with your Herschel heaters in anything from just 5 minutes (free-standing) to half an hour (wall mounted)?
If you want to get your heater up and running quickly; want to keep them portable, or just want to take some time to find the exact spot for more permanent fixing later on, then our Easy DIY infrared heaters are for you – with some great discounts too.
You'll get all the benefits of Herschel Infrared Heating together with the convenience and energy-saving features of Smart Control with our mobile app. An Infrared radiator and thermostat in one simple package.
Free standing
If you want your heater to be free-standing – so you can move it where you want to, or just experiment with the best location – then our 220 Watt Under Desk heater is easy to assemble and allows you to be up and running in minutes and is fully app-controllable.  Ideal for a home office or a bit of extra heat when you're watching telly.
If you want something a bit more powerful, then select our 600 Watt "Easy DIY" panel (comes with plugin thermostat) and just add the optional feet.
Wall mounted
If you want to mount your heater on the wall with the minimum of fuss, then choose our 600 Watt "Easy DIY" panel, which comes with a fully app-controllable plugin thermostat and will comfortably warm an area of 11 – 13 m². Its "EASYFIX" mount is easy to position and fix to the wall; slot your heater in; plug it in and go. This option is great if you need to be up and running quickly, or intend to do a more permanent installation later.
Fully app controllable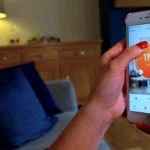 Both Easy DIY options are fully app controllable (but don't have to be).
Our Under desk heater will work on its own using its own built-in thermostat, but for precise control even when you're away from home, we recommend you download the SmartLife app to your phone and use it to setup your heating on a schedule – and even control it along with other Herschel heaters in your house or office.
Our 600 Watt Easy DIY panel comes with its own plugin thermostat which can also work as a stand-alone controller for your heater, or together with the SmartLife app will allow you much greater levels of control and coordination with other Herschel heaters in your house or office.
Inspiring Ideas
Happy customers showcase their designer home on TV
Your Home Made Perfect on BBC2
Herschel donates heaters to DIY SOS
WHAT
SIZE PANEL DO I NEED?
use our handy
Testimonials
Herschel's Legacy