Since we launched our Technology Centre in 2014, Herschel Infrared has been the UK's only infrared heating manufacturer to provide training for its installers. Now, seven years later, we have the UK's largest network of recommended infrared heating installers.
In the last couple of months, we have been updating the training and benefits of the installer network and now installers and customers can easily be put in touch with each other right across the UK.
Some of the benefits installer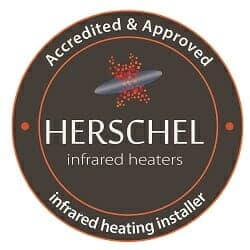 s will receive include:
Trade prices available when purchasing online;
Online Training;
Help with Specification calculations and Installation;
Head Office Support.
There's also a new online forum where installers can post technical questions and receive quick responses from our experts.
It is now easier than ever for our customers to ask for an installer and be put in touch with one close to them. To ask for your nearest installer click here. 
Regardless of the complexity of the installation, and whether you're a customer or an installer, you'll receive full support from our team of friendly experts from start to finish, with a guarantee of top-quality service and excellent warranties on our products too.
To become a Herschel Infrared Installer and join our ever-growing community, click here.
Thank you for choosing Herschel Infrared and our range of energy efficient, simple to install infrared heaters. We look forward to working with you.