Heating self build and renovation projects
Practical, affordable heating for self-builders & renovators
Herschel Infrared is a very attractive solution for heating self build and renovation projects.  In both cases you will be looking for a solution that is pragmatic to install without the disruption of extending wet systems or underfloor heating or the expense, complexity and skills requirements of heat pumps. Self-builders and renovators who meet us at our stand at the National Self-Build and Renovation Centre are also driven by energy efficiency and a modern look.  All of them love the fact that our heaters can be put high up on walls or ceilings and not become obstacles to work around with furniture or shelves, that the heaters can be discrete white panels that blend into the background, or a showpiece family picture or mirror. Self-builders and renovators love the fact that you can also progress room by room with an infrared heating installation – not having to wait for the last piece of plumbing before the entire system can be used and with very little intrusion apart from wiring into the structure of the building itself.
The other considerable advantage is that Infrared Heating can be installed using complimentary skills to those needed during the renovation anyway, avoiding the organisation and down time required for specialist contractors which can help to avoid significant costs.
Browse Heaters
Select XLS – White Frameless Infrared Panel Heater

View Range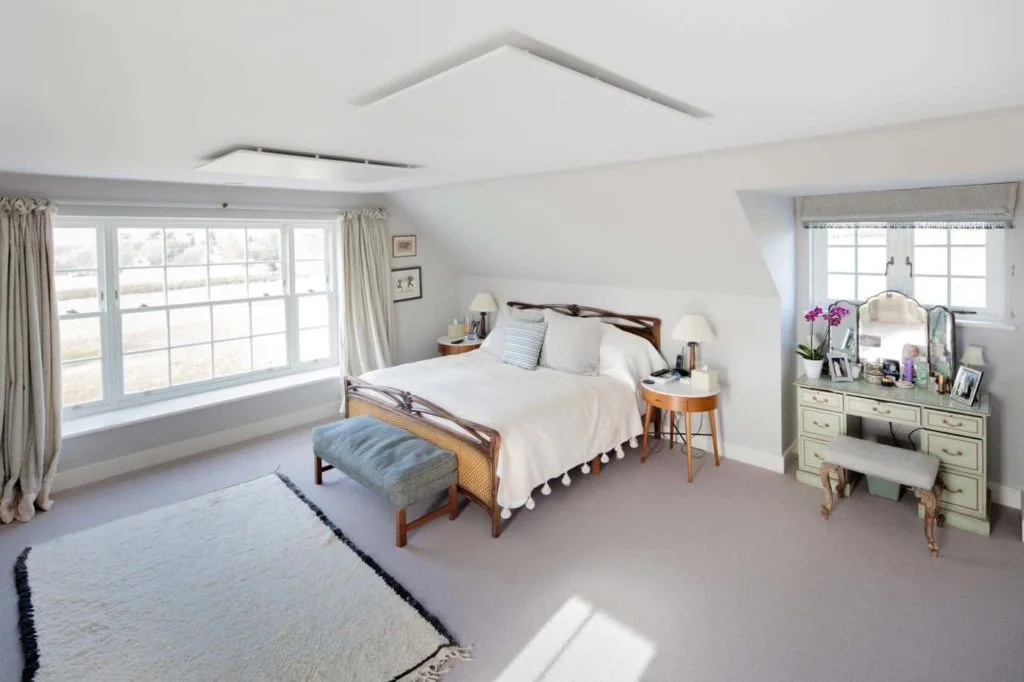 Renewable, CO2 free and low carbon footprint
A lot of self-builds and renovations are highly environmentally conscious, taking the opportunity to improve insulation and install solar on their roof. Infrared heating is perfect in these situations, being CO2 free in operation and often requiring less energy to heat than the Solar PV is producing on the roof. Alternatively simply switch supply to a 100% renewable electricity tariff for totally carbon neutral heating.
Infrared heaters are non toxic in operation and do not have the hidden hydrocarbons in the form of coolant gases you find in heat pumps, so have a much lower carbon footprint than air and ground source heat pumps.
Herschel's packaging and heater components are also environmentally sustainable, with our heaters being 97% recyclable at the end of their lives.
For more information and practical advice on heating renovation projects and self builds come and visit us at the NSBRC and see and feel our infrared heaters first hand.
Inspiring Ideas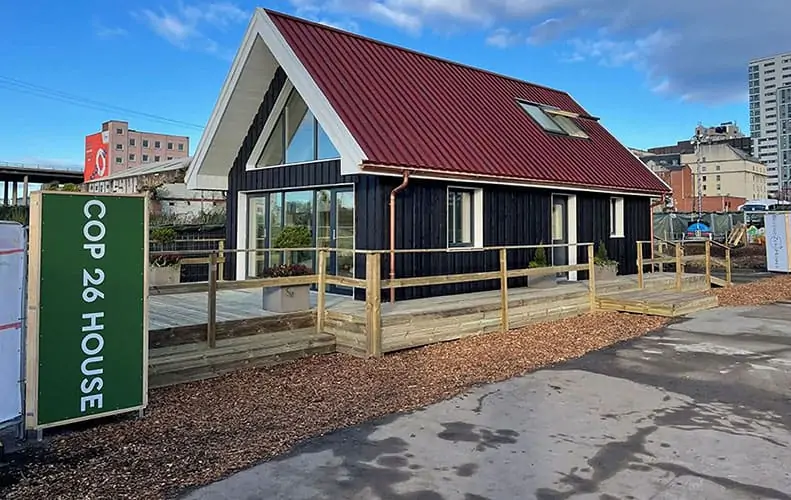 COP26 House
Find Inspiration
COP26 House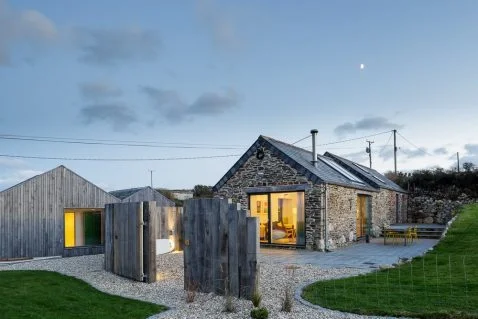 Charlie Luxton's Eco Self Build
Find Inspiration
Charlie Luxton's Eco Self Build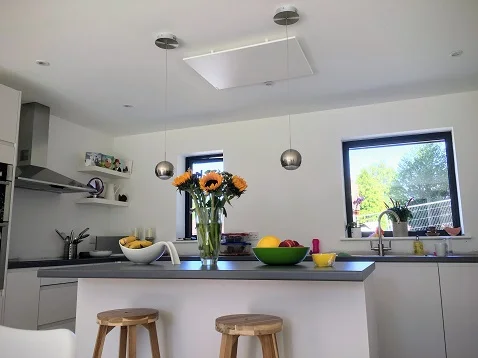 Heating for renovation projects
Find Inspiration
Heating for renovation projects
Customer Testimonials
"We can switch on the bedroom heater just before bedtime and walk in to a warm bedroom"!
Great solution for a difficult house renovation with lots of bay windows and curved walls – we have 3 ceiling, one wall mounted and one free standing heaters and bathroom mirror to complement our gas central heating in the rest of the house. The heaters are very responsive, and almost invisible when on the ceiling, and left us lots of space for our collection of pictures! The bathroom mirror is a neat solution. Our builders and electricians had not worked with infrared, but instructions for fitting are clear, and assistance from Herschel was prompt and helpful. The wi-fi controllers are wonderful! We can switch on the bedroom heater just before bedtime and walk in to a warm bedroom! Thanks.
"I love the infrared heating panels that are fitted on my ceiling".
I love the infrared heating panels that are fitted on my ceiling. They provide an energy efficient, economical, noise-less, easy, smart-operated, clean, zero-carbon emitting, moisture repellent, form of heating for this small space. I am so grateful to Herschel Infrared Heating (contact picked up at NSBRC) for all their excellent help and advice.
"So pleased with the final product"
Buying a house with night storage heaters called for a complete change in heating system. Herschel infrared heating panels provided an economical and environmental solution preferable to installing a gas boiler. Herschel were helpful and efficient throughout the process. We measured the rooms and they calculated what we needed, providing different options for the different model of panels.
The panels were easy to install and I am so pleased with the final product. They look elegant and unobtrusive on the ceiling; but provide instantly warming heat. Washing dries quickly, tiled floors feel warm beneath bare feet, and there are no radiators to clutter wall space. I love that I can control each panel from an app on my phone, meaning it is easy to heat up a room from the touch of a button. Best of all, when the electricity bill came, it was very reasonable.
"They're just brilliant".
"We call them the showpiece, the party pieces of the house. They're just brilliant."
"Why did we go with Herschel? It was a strong brand, Herschel's testimonials were out of this world. We had amazing customer service. We were really impressed with the mirror and picture. We thought they'd be a great showpiece to our renovation.   When people come over it's really interesting to see their faces when we tell them these are our heaters! "
Check out the full video testimonial here from our customers Keri and Matt. They love their Herschel heaters so much they jumped out the chance to star in our new TV advert when we asked them.