Infrared Glass & Blackboard Heaters
Elegant design with all the benefits of far infrared
Herschel's infrared glass heating panels offer an elegant, contemporary look whilst delivering all the comforts of improved comfort and low running costs that you should expect from quality infrared panels.
Our glass panel heaters are a popular choice for kitchens, studies, offices and for homeowners wanting a modern look throughout their property. Also available as a blackboard heater, this is the ultimate in efficient innovative heating.
Choose white or black glass panels and blackboards from our German made Inspire range.
Our glass infrared panels are frameless and use high-quality enforced safety glass (ESG), They should be wall-mounted only.
Browse Glass & Blackboard Infrared panels
Inspire – Infrared Glass Panel Heater

View Range

Inspire – Infrared Blackboard Heater

View Range
Head-turning glass and blackboard heater panels
Herschel Inspire
Recommended for professional installation only, the Inspire infrared panel range is made to order from our factory in Germany and come complete with a 10 year warranty. They are suitable for home and commercial use. Use with Herschel iQ thermostat controls.
Inspiring Ideas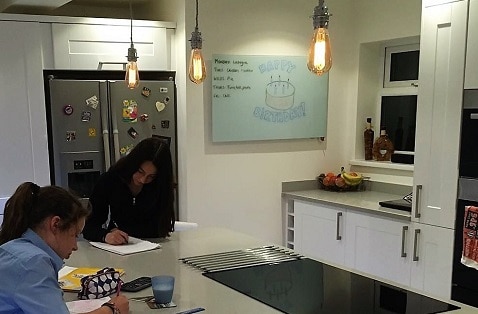 Glass infrared heaters
Find Inspiration
Glass infrared heaters
Customer Testimonials
"Excellent Service"
"They're just brilliant".
"Fantastic product and great service"