Infrared Heaters for Churches
Proven heating solutions for churches
In February 2020, The Church of England brought forward its net-zero emissions target to 2030. The opportunity to identify areas for reducing energy usage, across circa 16,000 churches, is significant. Given that 72% of the energy consumed by any church is used in heating the building, choosing the correct heating solution will be vital in meeting this target.
Herschel Infrared heating provides churches with the ability to install an energy-efficient, effective radiant heating system that can be tailored to the specific needs of any particular space. An electric heating solution that can be powered by a renewable energy tariff, to ensure carbon footprints are minimised.
Why do Churches Choose Infrared?
Infrared (radiant) systems directly heat objects and people in a space as opposed to heating the air and circulating it, thereby saving energy;
Reduced carbon footprint – with the correct energy supply (any form of renewable energy or green tariff ) infrared heating can be run on a zero-carbon basis;
Enables a much more consistent, comfortable temperature for the congregation;
Quick, simple installation – infrared heating simply needs an electricity supply and can be wall or ceiling mounted in the correct place (portable solutions also available);
No requirement for maintenance checks;
Highly controllable – simple operation to ensure the right people and spaces are heated at the right times with no wasted energy;
Solid-state, no moving parts – long life solutions;
No noise;
Choose between zero light and warm glow heaters;
Infrared warms the building fabric itself helping to preserve buildings and reduce damp levels.
Find more information on infrared heating for churches here.
Fantastic feedback in from Newquay Evangelical Church – improved warmth and a reduction in consumption of 54% from using Herschel.
Church Install case studies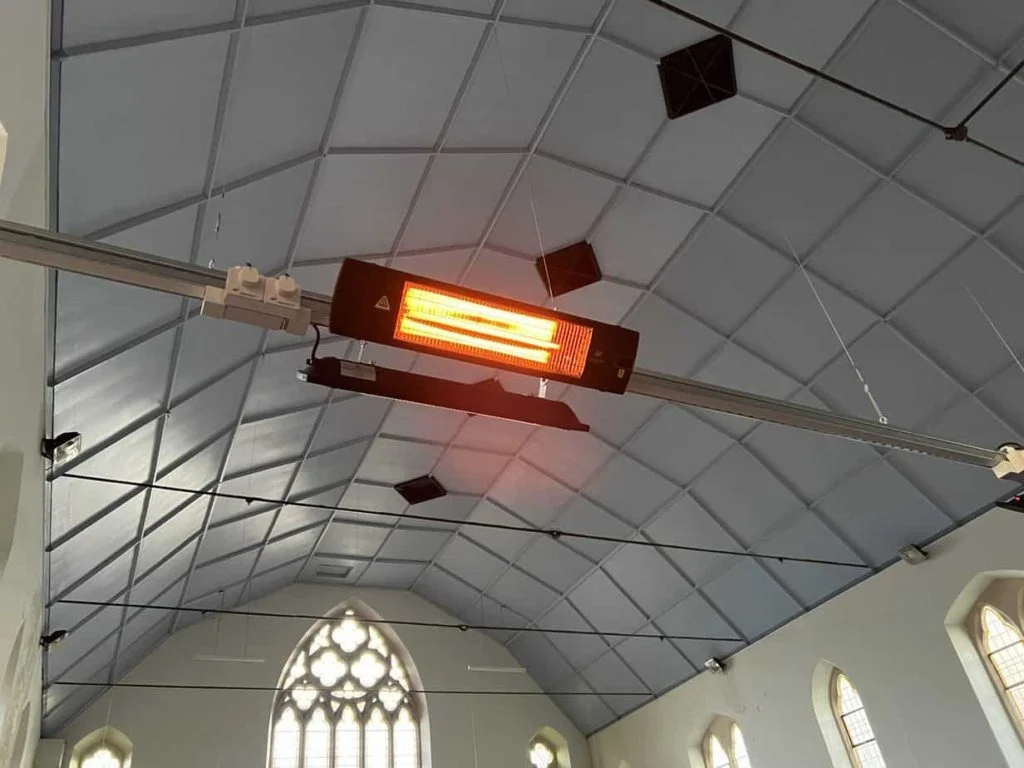 Professional Specification Service
Herschel has a team of in-house surveyors who perform on-site and desktop estimating services for commercial heating projects.
Contact us with your project details
Browse Church Heating solutions
Which Solution - Zero Light or Warm Glow?
All Herschel heaters use the latest technology to provide efficient and comfortable warmth from either zero light heaters or a low glare, non-intrusive solution (unlike the older style quartz heaters that were previously available elsewhere on the market). What is right depends on any limitations or restrictions within the Church building and how the heaters are intended to be run. Considerations include:
The intensity of heat required;
Speed of warm-up required;
Age of church and insulation;
Mounting heights for the heaters;
Control and operation of the heaters.
The Herschel team or your Herschel installer can provide advice and a tailored specification. A combination of both ranges may be the best option. Both ranges are excellent for preserving old buildings and protecting interiors.
Testimonials
"We're saving over half the energy bill that we previously had"
We're really thrilled to have these new heaters installed in the church here, and we're really pleased with the results. Previously we had convection heaters all down each side of the church, and we used to have them on a timer that came on at 3 or 4 o'clock in the morning, and when the services started at 10:30 am it only just took the chill off in the main sanctuary, they were just no good at all, nice and hot in the ceiling, but absolutely no good in the main sanctuary. So we looked into purchasing these Herschel heaters, and we're delighted with the results, to our amazement we only need to put them on 30 minutes before a service starts, so we put them on at 10 in the morning and everyone is nice and warm. We've got four different heat settings we can use, operated by remote control, and since we've set these up what we've been seeing is people actually taking their coats off in services now, which is great, we never used to see that before! The other massive difference this has made is to our energy consumption. We did a like-to-like, before covid, during the winter and we're saving over half the energy bill that we previously had now we're using this new infrared technology. I definitely recommend them to any church looking at heating systems wanting to upgrade, the congregation have been delighted with them. The other thing is that you can zone them, so you can put the front ones on if you're using the area down at the front of the church and not using the back area, it just keeps that area at a nice temperature, rather than using all of the heaters all around the building. We couldn't recommend them enough to any church that's thinking of using them, so thanks to Herschel, thanks a lot."
"I would recommend Herschel Infrared to other churches, the system works"!
Well, it's transformed the church really. We were in a situation that many churches find themselves in of our heating actually being condemned, the old gas heating that we had. Like many other churches, we decided that we wanted to become an eco-church, and like many other churches and the rest of society, we're very mindful of climate change. We wanted to move away from gas heating, so we looked into electricity and electric heating. I, like many people who have been in church for a long period of their life, have got memories of sitting under electric heaters and getting frazzled and fried. I'm glad to say that is not the case with these Herschel heaters. The heat is very different, and it spreads throughout the whole of the church, and that's been a real benefit to us.
We've got heaters upstairs in the sanctuary, but also in a hall that we let out, and in a side chapel, and also the toilets and kitchen as well. The best part is that we can then zone them, so we don't have to have the heating on in the whole of the church, we can actually have it in the hall if we have a hall letting, or we can just have it in the sanctuary if we're worshipping.
I would recommend Herschel Infrared to other churches, the system works! As they say. The heat they give out takes a bit of learning to know what fits your building best, but once you've done that, it's a real winner. Unfortunately like most old church buildings, we do get leaks sometimes and we actually managed to use the heating system we've got to dry out the wet carpet from the leak.
The benefits I like are that it's modular, I like that I can control the heating when I'm at home, so if you suddenly need it on for something, I don't need to rush all the way here. We would like to see some savings in terms of finance, and it's really low maintenance too.
"The best thing for our church"
"The best thing for our church. The old infrared heaters we had were terrible, no more glaring light, no buzzing noise and no more complaining from our elderly congregation of being cold. Really quick heat up times and have saved us a fortune against our old running costs as well as reducing the power we used by 40%. We are now looking at the rest of the areas in our church, after having trialled Herschel in the main rectory. Adam and his team at Herschel have done a brilliant job and should be very proud".
John Horton, Church Warden, Salisbury Park United Reformed Church,
"Working just as we hoped"
"Having researched the different forms of heating for our church we decided that Herschel Far infrared heaters were the company that we were most interested in.
On contacting Matthew Dodds, of Herschel, we found him most helpful and informative.  The online assessment of our particular requirements was most useful.  The heaters are now up and running and working just as we hoped.  All the church members seem to be very impressed.
I cannot praise Matthew Dodds and Herschel highly enough as they are very efficient with nothing being too much trouble".
Peter Rothwell – Bekesbourne Church
"Heaters have been perfect".
The Colorado R heaters have been perfect. Our electrician had no problem connecting them so installation was quick. The groups who meet in the room have been so grateful. The heaters are logical to turn on and adjust; the heat-up time is almost instant and the heat level is comfortable. It's not a drying heat. They are absolutely silent – in addition to the discussion groups, we now hold meditation sessions in the room, something we couldn't do with the portable fan heaters.