Infrared heaters for shops
Completely changing the way retail shops are heated
Herschel's range of commercial infrared heaters for shops is completely changing the way retail shops are heated, providing cost effective, stylish, comfortable warmth for employees and customers. Our solutions are programmable remotely allowing you to control the heat to meet your specific requirements.
Our Select 350w ceiling tile heaters are the ideal for shops with suspended ceilings – perfect for heating entire shops or as a top up for colder zones within larger premises. The infrared heat is radiated down keeping the heat source out of reach of customers and employees. Easy to install and control, they are discreet, efficient and maintenance free.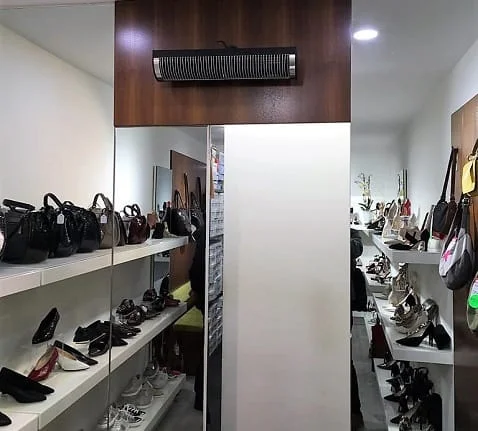 Professional Specification Service
Herschel has a team of in-house surveyors who perform on-site and desktop estimating services for commercial heating projects.
Contact us with your project details
Used by leading UK Retailers
Herschel's Summit 2600w is a zero light, highly efficient commercial infrared heater for shops which can be ceiling, wall mounted or suspended and provides comfortable zoned heating.
Aspect XL is a compact but powerful zero light heater which provides effective and efficient heating within the heated zone. The Aspect XL shop heaters are used by leading retailers including Boots and All Saints to heat entrances and till areas in their stores. Herschel is fast becoming recognised as the infrared heater store with the unrivalled track record in heating the retail high street.
All of our heaters have a range of control options, are easy to install, maintenance free and long life. They can be used as an entire shop heating system or as a supplement to existing heating systems.
Contact our heat design team for advice.
Customer Testimonials
"Blackboard looks great"
We were renovating our kitchen and discovered infrared blackboard heaters from Herschel. We loved the concept and thought it would provide a fantastic addition to the modern kitchen design we went for.
The blackboard looks great, has become a real talking piece when friends come over especially when they feel the warmth, and Archie the cat won't move from it in the morning! Kelvin Lee
"Previous heaters ineffective"
"We decided to switch to Herschel Infrared heating for our trade counter and showroom as our previous overhead heaters had become ineffective and were failing to keep our staff and customers warm.   Different heater types were installed to suit each area and the installation was incredibly quick.  Feedback from both staff and customers is that they are noticeably warmer when it's cold so we are more than satisfied with the switch to Herschel Far Infrared heaters".
Jason Rothwell, Howarth Timber.
"The product is incredible".
Took a while to arrive but they went above and beyond to make sure I got the heating panel before Christmas. The product is incredible, the glass infrared panel is so effective and takes up no space. Highly recommend.
"It's so controllable and reliable. It's brilliant!"
I am so impressed with the infrared heater Hershel supplied for my sports and remedial therapy room. My clients love it because it is warm and cosy (ideal conditions when working on muscles) and I love it because it looks brilliant and is so economical. It also works as a white board so I pop reminders on their for clients. It's so controllable and reliable. It's brilliant!
As used by: