A development of 13 eco apartments designed to optimise comfort, affordability and sustainability.
"Purchasers of our homes love the far infrared panels which run on our solar energy".
Background
The combination of sustainability and comfort in homes is a principle endorsed by Herschel and one that we endeavour to promote to all. Miracles by Design share the same principle and we are delighted that they have selected Herschel Infrared heaters to warm their beautifully designed homes, the first accredited Active House homes in the UK. This housing project incorporates inspirational design to ensure comfort is optimised whilst minimising energy usage and delivering zero carbon, sustainable homes.
The eco development of 13 apartments in Newhaven, UK, has been built to a specification that is described as better than passive. It looks beyond the reduction of energy and emissions and also looks to prioritise comfort and air quality to create a better, healthier environment. The energy-efficient, highly insulated housing project incorporates a significant solar installation plus large-scale, south facing windows to provide passive heat gain and increased daylight. Low energy heating panels from Herschel ensure comfortable temperatures are maintained and the radiant heat technology facilitates the emilination of damp and the circulation of dust. The eco credentials of the site also include the use of 100% offset concrete (using a 70% recycled product, the remaining 30% being offset by planting trees).
Solution
Herschel far infrared panels have been installed throughout the 13 properties. The white panel heaters have been ceiling-mounted to provide a discreet solution that maximises the space available for the occupiers within the beautifully finished interiors. The infrared panels are thermostatically controlled by mains-powered MD2 thermostats which incorporate 7 day programming and optional internet control for maximum flexibility.  The property developer wanted to avoid gas systems and chose infrared heating given its affordability, low running and maintenance costs combined with the comfort levels created by  far infrared energy. Mr Khan says that the comparable cost of installing Herschel Infrared was less than £2k versus a gas system which came in at approx. £7k.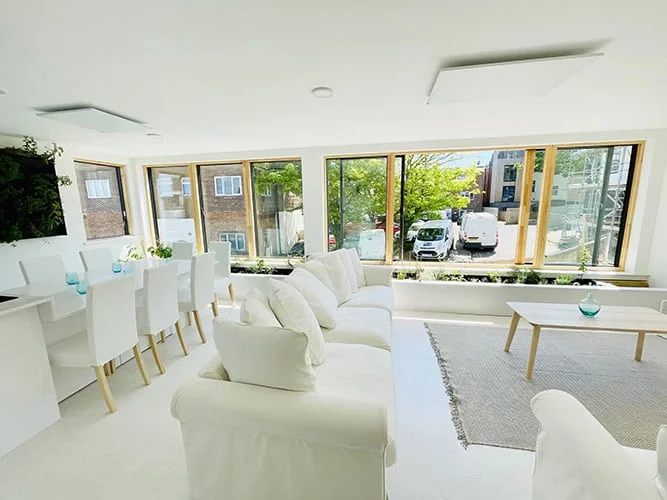 Testimonial
"We have built the 1st UK accredited Active House homes.

According to GXN innovate Denmark, Active House is 1 of the top 10 worlds sustainable building standards out of a total of around 140. 
We have laid the 1st UK Zero Carbon Concrete
Along with lots of other eco features
The 1st homes with income/savings that pay their own mortgage: homes have a separate entrance, self-contained Studio/Annex that can be rented out, no energy bills, an income selling green energy instead, 10% cut in water bills and self-cleaning window cleaning
The reasons why I installed 13 homes worth of far infrared from Herschel, compared with other providers of Far Infrared, are:
Great service
Know their product
Did drawings of layouts, sizes of panels
Their thermostats look very sleek and great
Purchasers of our homes love the far infrared panels which run on our solar energy. I tell them that the Government said that it would ban Gas by 2025 and 85% of the UK runs on Gas, which will have to be retrofitted. Install cost of Far Infrared is under £2,000 and Gas heating would be around £7,000. We are Zero Carbon Homes. I explain that far infrared is used in Saunas as its a healing energy". 
Humayun Khan Owner and Director of Miracles by Design, property development company.