Electric Hot Water Heating
Herschel's HydroNova system is the perfect high performance, electric hot water heating system that works as a space-saving alternative to immersion heaters and provides a water-heating solution for your whole house.
Working together, your Herschel infrared panels and your HydroNova water heating system provide a complete boiler-replacement solution or Heat-pump alternative.
The HydroNova system includes a Thermino© hot water battery from Sunamp©, an innovative new form of heat battery to store heat, which is released only when hot water is needed. So you can charge the system using cheaper rate electricity overnight, or using power from Solar PV during the day and the result is instant hot water from a solution that is also tankless.
The HydroNova system comes with all the components your plumber will need to install it and incorporates Herschel's smart control switch to allow you to integrate the re-charge cycle with your Herschel Heating and other Smart appliances using the SmartLife App.
Simple to install for professionals and with a 10 year guarantee, the HydroNova system is also maintenance free with no servicing requirement.  Find a  HydroNova installer near you, here.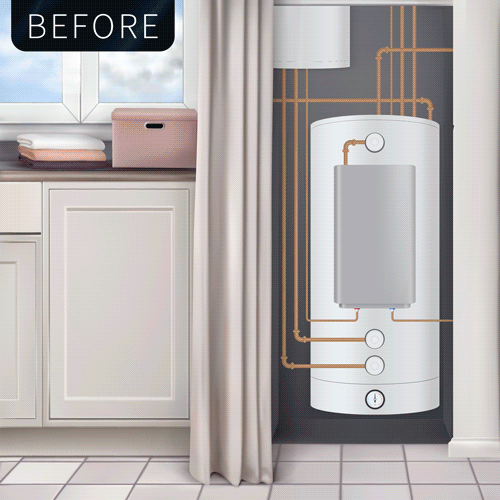 Space Saving Solution
HydroNova is a compact hot water solution, taking up far less space than the typical gas boiler. Starting at just 64cm tall, this all electric hot water heater can be fitted in your kitchen cupboard.
Reclaim your utility space for extra storage, expanded living areas, or a new washing machine. HydroNova replaces bulky, rusting boilers for a small-scale, efficient solution to hot water.
Easy to install by professionals, enjoy hot water on demand with Herschel's HydroNova system.
How is HydroNova powered?
HydroNova is the complete electrical hot water solution. This new way of heating water can be powered directly from Solar PV, making it a carbon-free way of giving your home hot water.
The Herschel Control Switch allows you to smartly control when HydroNova is running. Once charged this heat can be released instantly, providing you with hot water during peak times, for off-peak prices. Our Control Switch is compatible with the Smartlife App, giving you greater control over your hot water. Set longer charge times for high-intensity days, or set the HydroNova to holiday mode for those long trips away.
See our interactive diagram below for more information.
Hot Water Heaters
Showing the single result
HydroNova Hot Water System

View Range
Showing the single result