Warehouse Heaters
The complete warehouse heating solution
Our market leading range of infrared warehouse heaters are the perfect solution for heating people in warehouses and are the ideal replacement for legacy gas or air blown heating systems.
Savings can be achieved through infrared radiant heating because it is possible to precisely heat only the areas that require heating. The ability to create heated zones can result in significant savings as convection heating needs to heat the entire volume of air in a unit – not just the zone you want.
Herschel offers different heaters for different industrial uses, from heating individual workstations to workbenches and whole areas of warehouses. Click on the image to zoom the picture and discover the different applications for our different industrial heaters.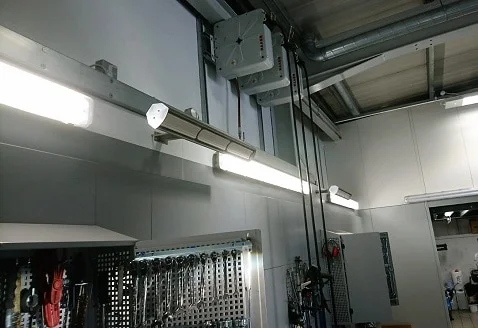 Professional Specification Service
Herschel has a team of in-house surveyors who perform on-site and desktop estimating services for commercial heating projects.
Contact us with your project details
Effective infrared heaters for workshops, service bays and loading areas
Workshops, Vehicle service areas and loading bays are difficult to heat using traditional solutions which require you to heat the whole volume of air, circulate dust and other unwanted debris and encourage moisture formation.
These areas benefit greatly from Herschel's Infrared workshop heaters. Moisture is kept to a minimum, our heaters can be zoned to heat just the area you want, they are cost effective, highly efficient and comfortable. Significant energy savings can be made by heating specific areas and not the entire volume of the building.
Our commercial infrared heating range is the preferred choice for replacement of old gas and electric convection heating. Our heaters are also suitable as additional supplementary heating of cold areas.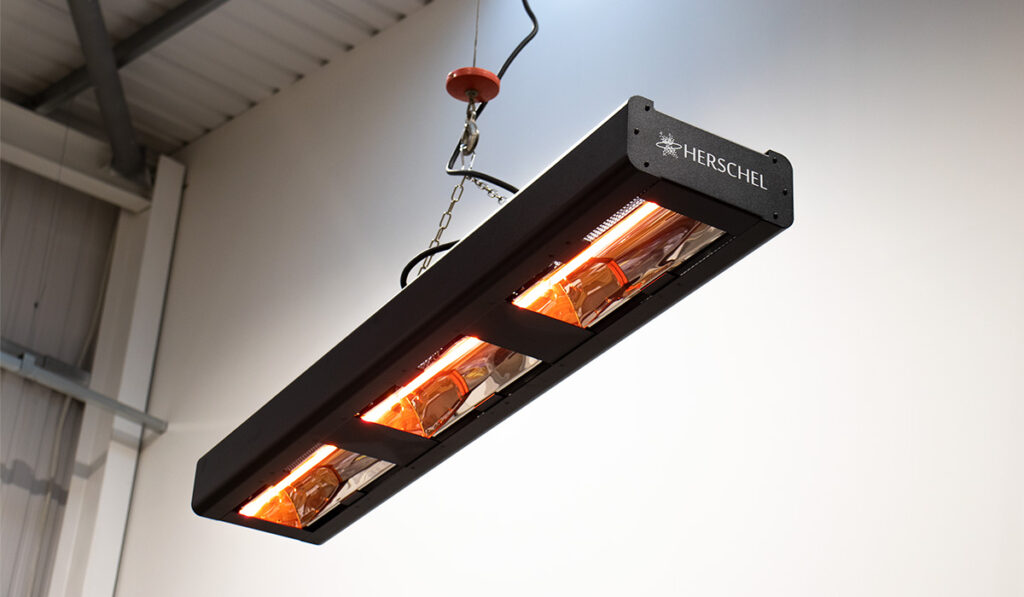 Zoned Industrial Heaters
Heat is Zoned (directional) if heaters are used individually and are targeted pointing at the area to be heated as shown. Within the zone people and objects will be heated (not the air.)
Heat can also be non-directional based on the cubic volume of the space using multiple heaters and a thermostat.
Inspiring ideas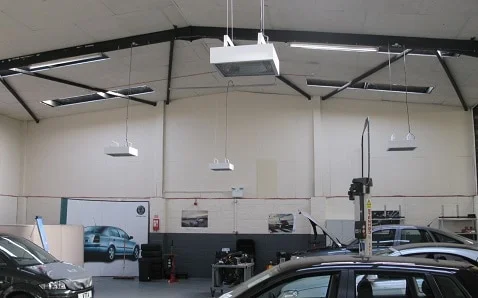 Garage workshop heater installs
Find Inspiration
Garage workshop heater installs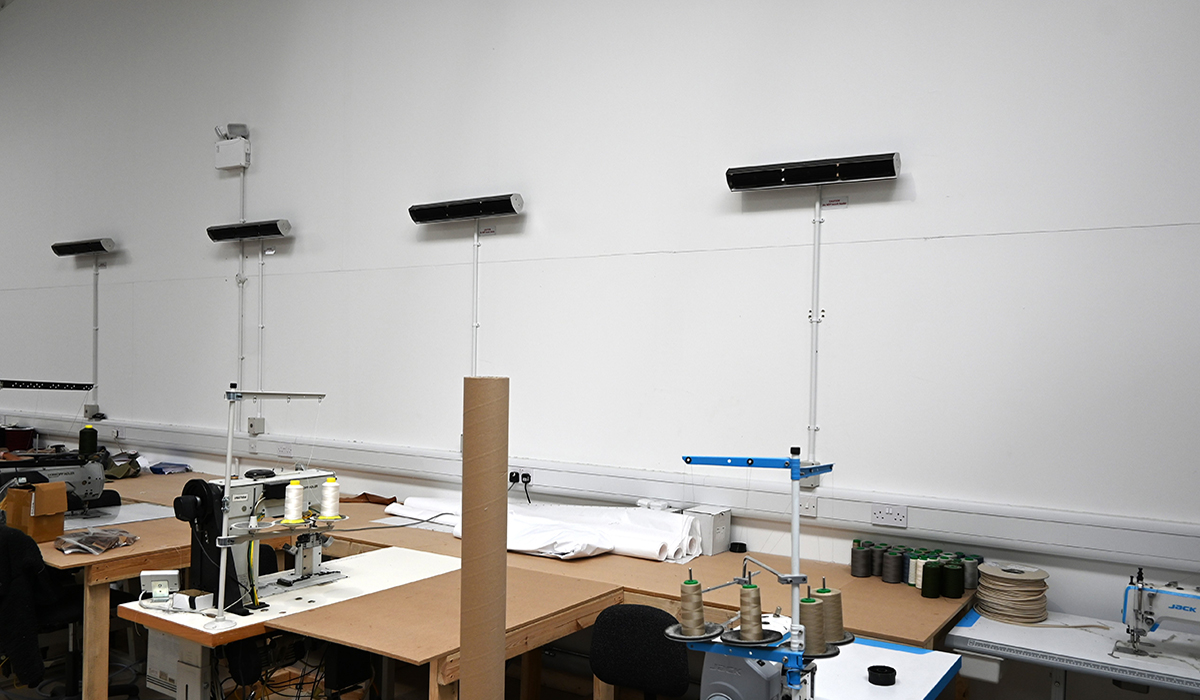 Heating Workshop Spaces
Find Inspiration
Heating Workshop Spaces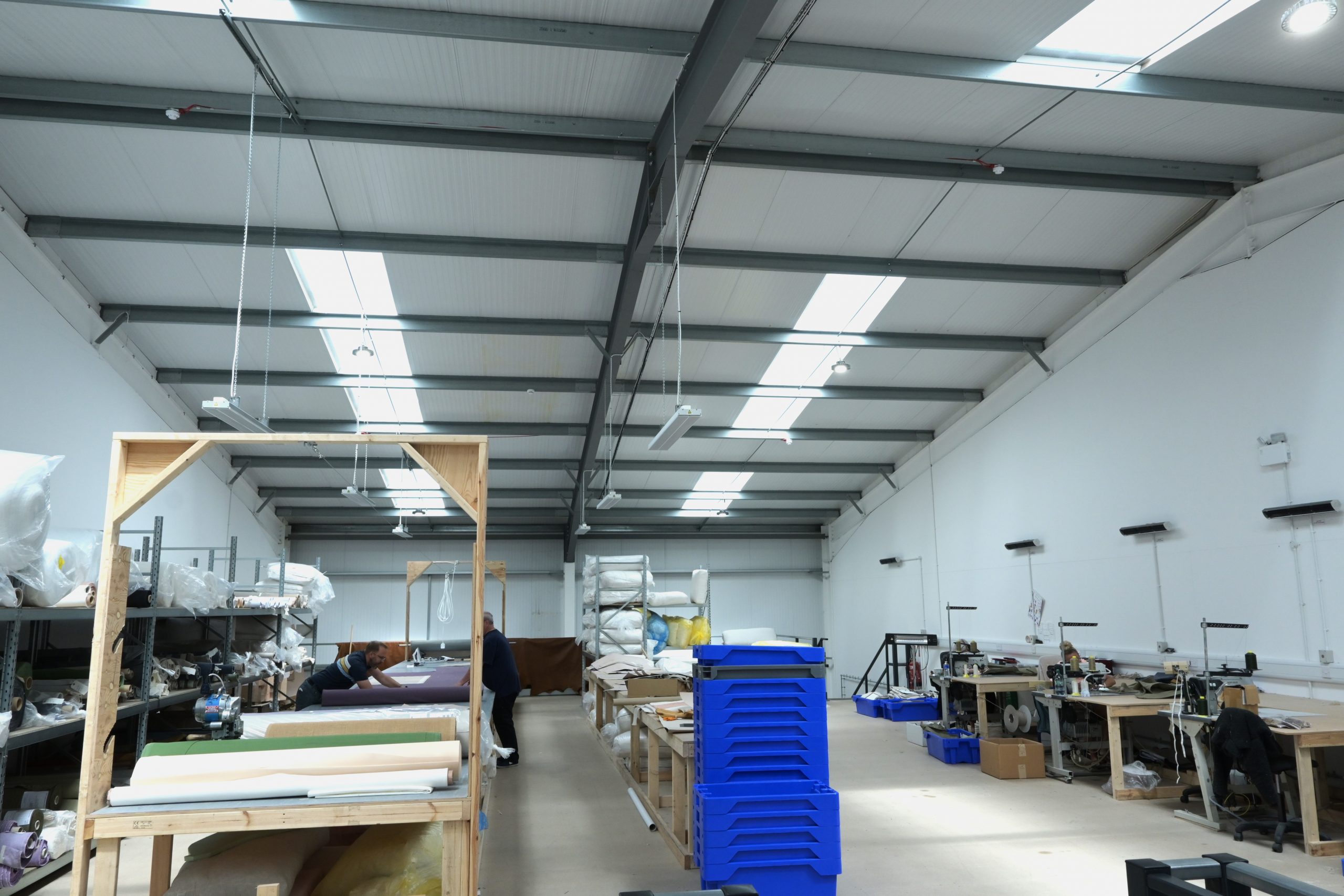 Heating warehouses
Find Inspiration
Heating warehouses
Customer Testimonials
"The ideal industrial heating solution"
"The heaters were simple to install, silent in operation and feature no ongoing maintenance. You can feel the heat within a couple of minutes and the area remains warm for some time after the heaters are turned off. We only need to heat a specific area of the warehouse, and the area is not in constant use. Herschel Infrared is the ideal industrial heating solution, providing comfort when and where needed." Eugene Donnelly, Dalradian Gold
"Focus heat in a defined area".
"Rather than heat the entire space, much of which is storage or rarely in use for any length of time, we use three heaters to maintain comfort in the main work areas in the studio. The heaters were fast and simple to install, and cost significantly less than a boiler based system. Running costs are predictable and the heat is very natural and comfortable. Because the space heaters focus heat in a defined area, I can heat the area where I'm working rather than the whole space which reduces running costs. I'm also able to keep working when the cold would have slowed me down in the past". Andrea Spencer
"Keep our paint shop drying area warm"
"I just wanted to thank you for your advice on the type and number of fittings to keep our paint shop drying area warm and dry (from air moisture), they work perfectly, thank you.
The units are really compact and suit our requirements to a tee, we now have a happy spray team".
Welham Distribution Centre
"Previous heaters ineffective"
"We decided to switch to Herschel Infrared heating for our trade counter and showroom as our previous overhead heaters had become ineffective and were failing to keep our staff and customers warm.   Different heater types were installed to suit each area and the installation was incredibly quick.  Feedback from both staff and customers is that they are noticeably warmer when it's cold so we are more than satisfied with the switch to Herschel Far Infrared heaters".
Jason Rothwell, Howarth Timber.
"You wouldn't believe the difference"
"You wouldn't believe the difference it's made…as certainly makes it comfortable for the team to work whilst based in that area!"
SG Gaming, Warehouse
Search other heater types
As used by: