Infrared Heaters for Village Halls
A range of diverse infrared heating solutions for Village Halls
Village halls are complex spaces that have a variety of different uses from indoor sport to community events, meaning that they require a diverse and controllable heating system that can be used for many different applications. Our portfolio of infrared space heaters can be adapted to any situation or preference. Whether it's zero-light or warm glow heaters, wall or ceiling-mounted solutions that are required, we have infrared heating systems to keep your Village Hall at your desired temperature without taking up valuable space.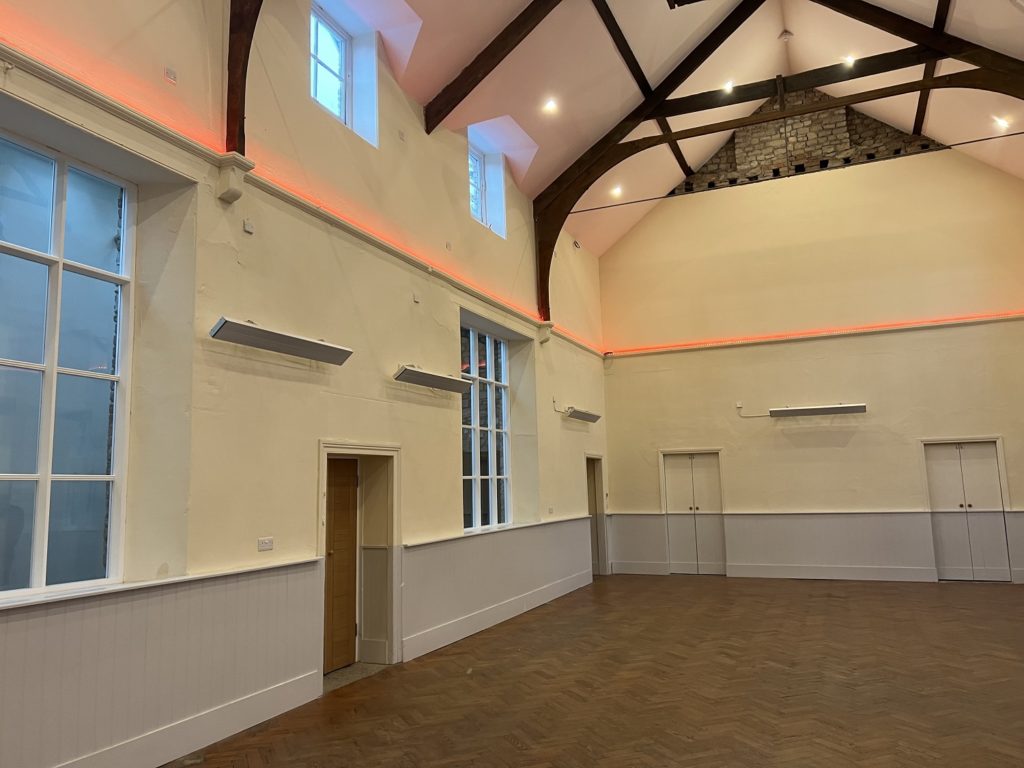 Professional Specification Service
Herschel has a team of in-house surveyors who perform on-site and desktop estimating services for commercial heating projects.
Contact us with your project details
Browse Heaters for Village Halls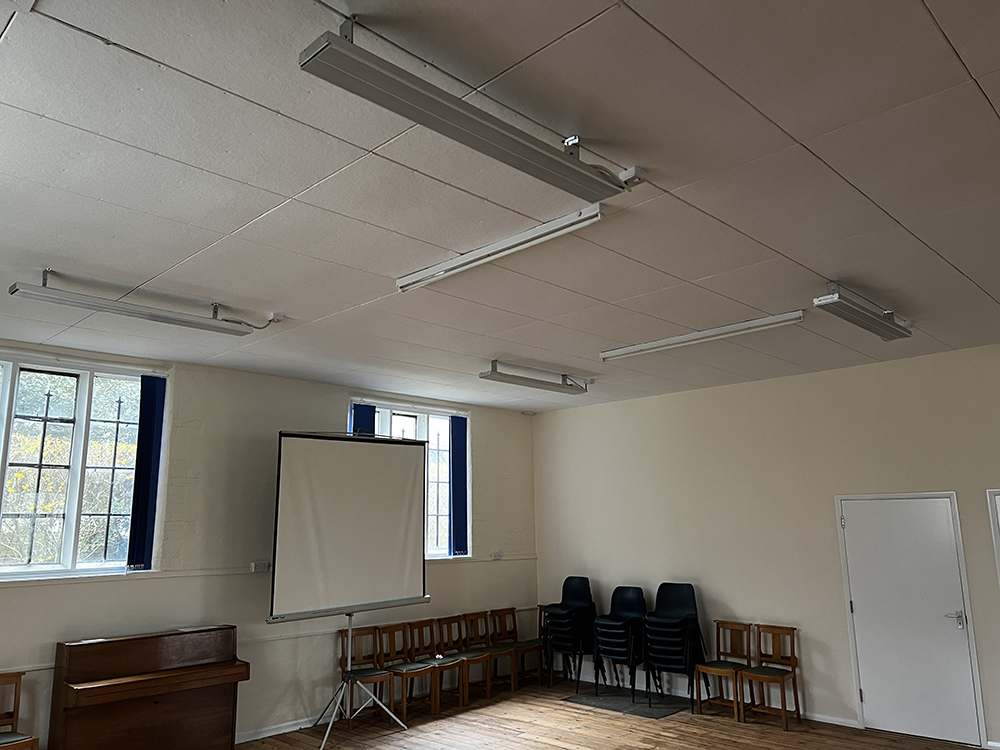 Efficient Heating for your Village Hall
Large groups of people often enter Village Halls at once, meaning you need an effective and efficient heating system that can bring up the temperature of the space quickly. By using our range of space heaters, you'll be able to rapidly warm the room and ensure temperatures are maintained to desired levels using thermostatic controls, including via the SmartLife App, or via remotes. Should you want something more discreet, we have a range of zero-light solutions that mean you can keep your heating discreet, but still stay comfortably warm.
Customer Testimonials
"It has resulted in the hall being used much more frequently"
Our existing heating was inadequate for keeping our hall warm and so we researched alternative hall heating solutions. We now have Herschel's very discreet Summit White heaters installed, controlled by the MD2 thermostats. We could not be happier with the results. It has resulted in the hall being used much more frequently. In previous winters, we would have groups leaving because the hall was too cold and now we have bookings most days. We simply preheat the hall just 30 minutes before it is occupied and it gets lovely and warm. People tend not to even notice the heaters which are ceiling-mounted and very subtle against the white ceiling. All in all very impressed, quick and tidy installation too. Would definitely recommend Herschel Infrared for cold spaces. We are now looking at a specification with them for our Church.
"We're saving over half the energy bill that we previously had"
We're really thrilled to have these new heaters installed in the church here, and we're really pleased with the results. Previously we had convection heaters all down each side of the church, and we used to have them on a timer that came on at 3 or 4 o'clock in the morning, and when the services started at 10:30 am it only just took the chill off in the main sanctuary, they were just no good at all, nice and hot in the ceiling, but absolutely no good in the main sanctuary. So we looked into purchasing these Herschel heaters, and we're delighted with the results, to our amazement we only need to put them on 30 minutes before a service starts, so we put them on at 10 in the morning and everyone is nice and warm. We've got four different heat settings we can use, operated by remote control, and since we've set these up what we've been seeing is people actually taking their coats off in services now, which is great, we never used to see that before! The other massive difference this has made is to our energy consumption. We did a like-to-like, before covid, during the winter and we're saving over half the energy bill that we previously had now we're using this new infrared technology. I definitely recommend them to any church looking at heating systems wanting to upgrade, the congregation have been delighted with them. The other thing is that you can zone them, so you can put the front ones on if you're using the area down at the front of the church and not using the back area, it just keeps that area at a nice temperature, rather than using all of the heaters all around the building. We couldn't recommend them enough to any church that's thinking of using them, so thanks to Herschel, thanks a lot."
"I would recommend Herschel Infrared to other churches, the system works"!
Well, it's transformed the church really. We were in a situation that many churches find themselves in of our heating actually being condemned, the old gas heating that we had. Like many other churches, we decided that we wanted to become an eco-church, and like many other churches and the rest of society, we're very mindful of climate change. We wanted to move away from gas heating, so we looked into electricity and electric heating. I, like many people who have been in church for a long period of their life, have got memories of sitting under electric heaters and getting frazzled and fried. I'm glad to say that is not the case with these Herschel heaters. The heat is very different, and it spreads throughout the whole of the church, and that's been a real benefit to us.
We've got heaters upstairs in the sanctuary, but also in a hall that we let out, and in a side chapel, and also the toilets and kitchen as well. The best part is that we can then zone them, so we don't have to have the heating on in the whole of the church, we can actually have it in the hall if we have a hall letting, or we can just have it in the sanctuary if we're worshipping.
I would recommend Herschel Infrared to other churches, the system works! As they say. The heat they give out takes a bit of learning to know what fits your building best, but once you've done that, it's a real winner. Unfortunately like most old church buildings, we do get leaks sometimes and we actually managed to use the heating system we've got to dry out the wet carpet from the leak.
The benefits I like are that it's modular, I like that I can control the heating when I'm at home, so if you suddenly need it on for something, I don't need to rush all the way here. We would like to see some savings in terms of finance, and it's really low maintenance too.