What is Lot 20 and how do I comply?
Herschel Infrared explains how the new Ecodesign legislation from the EU affects electric heating.
Effective from 1 January 2018, new legislation from the EU 2015/1188 (otherwise known as Lot 20) will bring about the biggest shake up in electric space heating ever known. Heaters that fail to comply will not be able to be supplied or installed in EU member states, so it is vital for re-sellers and installers to be aware of the new legislation.
Background
The EU commission has recognised for a number of years that local space heating represents a high proportion of energy usage and therefore is a key area for carbon emission reductions.  The new legislation is designed to reduce energy consumption. For electric space heaters, this will be achieved by only permitting their use when operated by advanced controls, improving their effective use and minimising wasted energy.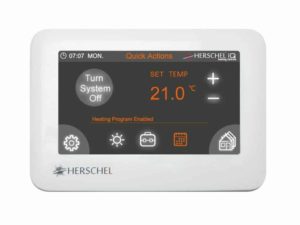 Re-sellers and installers of electric space heaters will need to be sure that the heaters they are selling or installing comply with Lot 20 from 1 January 2018. This is a complicated area and it is highly likely that many brands of heaters will be unable to meet the requirements, so it will be vital to check with the manufacturer that their model of heater does comply before selling or installing.
Will Herschel Infrared comply?
Herschel welcomes the new legislation as a catalyst to bring more efficient products into the market. Paul Morey, CEO for Herschel, comments "We have always promoted our heating systems to be operated via programmable controls as this is a very efficient way of running a heating system. This is the basis of Lot 20 and it will ensure that all manufacturers bring their controls up to date to make their heaters perform more efficiently. Lot 20 permits the use of integrated controls in the heater itself or as part of the product. We don't build sensors or controls into our heaters because we believe that effective measurement of a room's temperature is less accurate with a thermostat sensor integrated into the heater – the sensor is too influenced by the heat from the heater itself and the margin of error is too high. Most heaters available, including market leading night storage heaters, have built in controls and operate on a stand-alone basis. As well as being less precise in measuring room temperature the lack of central control makes it a real hassle to alter them, for example if you are going away on holiday and want to turn the heating down you have to do that on every heater".
Herschel take a different view and, with their specially developed iQ system, can control each heater individually, as needed, via a central control unit. The WH1 unit controls zones, or rooms, within the property utilising its sophisticated and user friendly seven day timer, with individual heaters being switched on or off via their wireless R1 receiver. The receiver constantly measures the temperature in the room which is fed back to, and controlled by, the central unit. The receiver also incorporates open window detection and a boost function (defined as "working time limitation" by Lot 20). The WH1 is also being specially developed to utilise Herschel's adaptive start control, meaning the system will accurately anticipate the required start up time of the heater(s) within the zone or room to reach the required set point temperature. This feature is particularly useful in the UK's variable climate.
When the legislation comes into place, Herschel will be supplying its heating panels and the iQ controls as part of a compliant product combination.  Herschel outlines that these iQ features not only make the product set Lot 20 compliant, but also best in class. According to Morey "We are confident that the combination of our heaters and iQ control system more than meets the Lot 20 requirements and is also extremely user friendly, cost effective, easy to install and unobtrusive. Our heaters are inherently more energy efficient because we are heating the thermal mass of the property and not the air.  Adopting Herschel iQ control systems adds to efficiency, which is the aim of Lot 20, but perhaps more importantly to users, adds to comfort levels. We have no doubt that efficient electric heating systems are the future and will become the norm, and Herschel heaters, together with our iQ systems, are at the leading edge of this technology. We firmly believe that low consumption electric heating, combined with renewable, clean power generation, is the only long term sustainable, and completely carbon free, form of heating".
Visit the Herschel website for more details of the iQ Control Solutions.
Note: Herschel Infrared heaters together with either the iQ Single Zone starter pack, T1, or WH1 Central Control Unit are fully compliant with EC Directive 2009/125/EC for Ecodesign of local space heaters.