Background
This customer came to Herschel looking for heating for their outdoor covered area which was sheltered by an extremely tall, wooden structure. The customer was looking for a solution that would heat the entire area and maintain a comfortable temperature, enabling them to enjoy this enormous outdoor area all year round.
Solution
To heat this large area it was decided that the Herschel Hawaii heater would be the best fit due to it's large area of coverage and ability to be suspended from the ceiling, above the big dining table in the centre of the area. The large wooden structure covering the area was incredibly stable allowing the heaters to be suspended from it. Four Hawaii heaters were specified for the area, hanging over the table to provide cosy warmth for diners and their warm glow provides the perfect fit for the beautiful setting.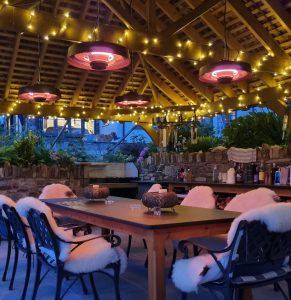 Testimonial
"We purchased four for our home and everyone loves them, please see pictures. They were easy to install and the whole family is really impressed with them. Can't believe the feel of heat you get from such a small heater. I will be recommending these in the future".