Home heating with Infrared
Your heating solution for living areas
Herschel Infrared heaters provide a home heating solution for all your living areas that adds to the aesthetics of your house whilst keeping you comfortably warm. A great choice for all rooms in your house, ensuring people feel cosy and comfortable from the lovely, non-stuffy feeling of warmth created from radiant heating.
Browse Heaters
Select XLS – White Frameless Infrared Panel Heater

View Range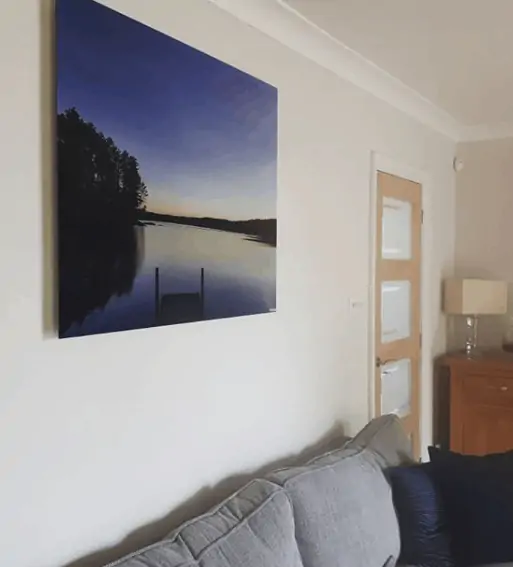 You'll wish you had changed earlier
All our panels look great in every room, with many people choosing to mount white panels on the ceiling. Mirrors are particularly popular for living rooms and bedrooms. Why not have a picture panel for your living room in your own stylish frame? Or a glass panel you can use in your kitchen as a dry-wipe message board? Make your heating work for you in an innovative way.
Our white panels can be ceiling or wall mounted. Because the infrared heats the room itself, cold floors are a thing of the past without the need for expensive underfloor heating. Our panels are low energy consumption making them ideal to combine with solar, battery storage and other renewable electricity generation for truly sustainable heating. Choose a renewable energy tariff for 100% carbon neutral heating.
Combined with our specially designed thermostat controls you can heat your rooms exactly when you need them to be warm so you do not waste energy or cost. Set your heater to come on first thing in the morning and when you are ready for bed so you are perfectly warm when you use your bedroom. Most people like to wake up in a warm bedroom but dislike that stuffy feeling. Our heaters provide a fresher heat and prevent the circulation of dust creating a healthy living space.
Home heating with infrared is easy with Herschel. We will provide you with an infrared heater solution that you'll wish you had changed to earlier. Don't just take our word for it – take a look at what our customers are saying.
Inspiring Ideas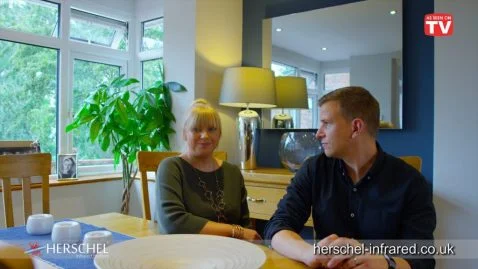 Happy customers showcase their designer home on TV
Find Inspiration
Happy customers showcase their designer home on TV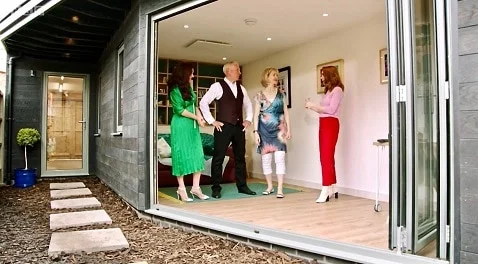 Your Home Made Perfect on BBC2
Find Inspiration
Your Home Made Perfect on BBC2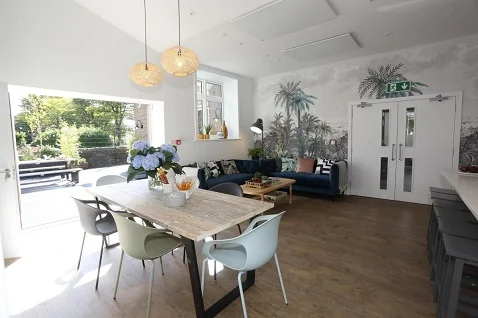 Herschel donates heaters to DIY SOS
Find Inspiration
Herschel donates heaters to DIY SOS
Customer Testimonials
"Part of the ground breaking BBC 2 TV show"
As the garden room & garage designed for us by architect Laura Clarke as part of the ground breaking BBC 2 TV show "Your Home Made Perfect" was both contemporary & minimalist in style, we knew we needed to find a range of fittings & furnishings to match. Consequently when Laura suggested Herschel's infrared panels & showed us how versatile they were, we thought they could work very well in our new build. Whilst we liked idea of rimless white panels that could be controlled to suit when we used the room, they are so much better than we'd imagined ! However the best thing about them is that by siting them on the ceiling, they are not only unobtrusive, but automatically free up all the wall space to use flexibly. The result is a very spacious & visually uncluttered room that is not only cosy in winter as a place to work from home, but also to relax in an evening or on the weekend. We couldn't be happier !
"So pleased with the final product"
Buying a house with night storage heaters called for a complete change in heating system. Herschel infrared heating panels provided an economical and environmental solution preferable to installing a gas boiler. Herschel were helpful and efficient throughout the process. We measured the rooms and they calculated what we needed, providing different options for the different model of panels.
The panels were easy to install and I am so pleased with the final product. They look elegant and unobtrusive on the ceiling; but provide instantly warming heat. Washing dries quickly, tiled floors feel warm beneath bare feet, and there are no radiators to clutter wall space. I love that I can control each panel from an app on my phone, meaning it is easy to heat up a room from the touch of a button. Best of all, when the electricity bill came, it was very reasonable.
"Such an amazing product"
Thank you for providing such an amazing product. So thoughtfully designed by your team and perfect for this project on every way. ❤️❤️❤️
Gabrielle Blackman, Interior Designer DIY SOS, on Herschel panels and Summit heaters for Blackburn's charity Nightsafe, supporting the young homeless, aired on BBC1 13 November 2019. Via Instagram @ cushioncrisis.
"Best heating I've ever had"
Fabulous heating system. Best heating I've ever had.
"Doing my bit towards climate change"
My whole experience. 3 infrared ceiling panels and 1 wall mounted space heater. Bought my first ever property. A little mid terrace 1 bedroom house with the bedroom on a mezzanine level. From ground floor to ceiling peak is 4.9m. Very open plan weird shape. The only heating system it had was a plug in electric fireplace… thing, and the gas meter had been took out. Anyway, after days/weeks of research and since I'm a bit of an 'eco friendly nut' – I decided on elec heating system and then on infrared panels as I don't have enough space for anything on my walls. Gas or storage heaters would have been pointless as there is a huge volume of air as it's all open plan and heat rises. My diamond colleague/friend who's an electrician in his very late 50's had never done anything like this, but I assured him he was very capable (lol). Ended up a near full re-wire and new board anyway. I sent off pictures with measurements and descriptions as I had zero clue what size/wattage I had to get and the team were very efficent in telling me what I needed after more than a few emails back and fourth. The instructions on the website which my dear friend spent about 2 weeks reading over, were very clear once he figured it out. Although my joiner did advise putting in extra framing above the ceilings to hold them up, but I lowered mine anyway and had access to the loft so this wasn't a problem for me. Now I'm currently sitting in my new home with them all connected. Bearing in mind at the start of this project, I was a 24 year old painter and decorator who 'doesn't have a clue' and infrared technology is 'a waste of money'. I have now proven people wrong on both points and they are thoroughly amazed at these things. The heat they give off is direct, like the sun. Heats walls, surfaces, objects – which means they do not make the air stuffy like gas radiators or storage heaters which would give me a headache and make me feel like I couldn't breathe. Also considering most storage heater wattage, these are meant to be better on the bills. They just take a bit of getting used to. I'm very pleased with them and the overall experience with this company. I hope they last a long time so this will be my first and last purchase. Unless in 20+ years I move, then I will be back and hopefully by then this internet page has thousands of 5* reviews. I did have a problem with the app on my phone (which eventhough I'm giving a 5 star review, does need work). But thankfully the people at herschel gave me an alternative so that I could use this system as was intended and I'm very greatful for that because now I'm cosy. So afterall, now with my panels and my renewable energy electricity supplier, I am now doing my bit towards climate change – at least in my mind… Thanks everyone.