Hanging Patio Heaters
Overhead patio heaters for high comfort
Economical and effective overhead heaters for outdoors
Hanging patio heaters are a great option when you have a permanent/semi permanent covering or structure.  Typically places with larger floor areas but plenty of overhead shelter benefit from this type of patio heater, such as areas under gazebos, conservatory ceilings, commercial marquees and other awnings.
For colder, more exposed outdoor areas we would recommend the Herschel Hawaii, the compact Miami or the powerful 3kW Manhattan.
For indoors and covered rooms which open to outdoors in warmer climates, with low air movement, our zero light Summit heaters can also be ceiling mounted pointing straight down or suspended.
All our hanging patio heaters are suitable for domestic and commercial use. All our heaters are built to the highest standards, are energy efficient and maintenance free with long lifetimes.
Browse all Hanging Patio Heaters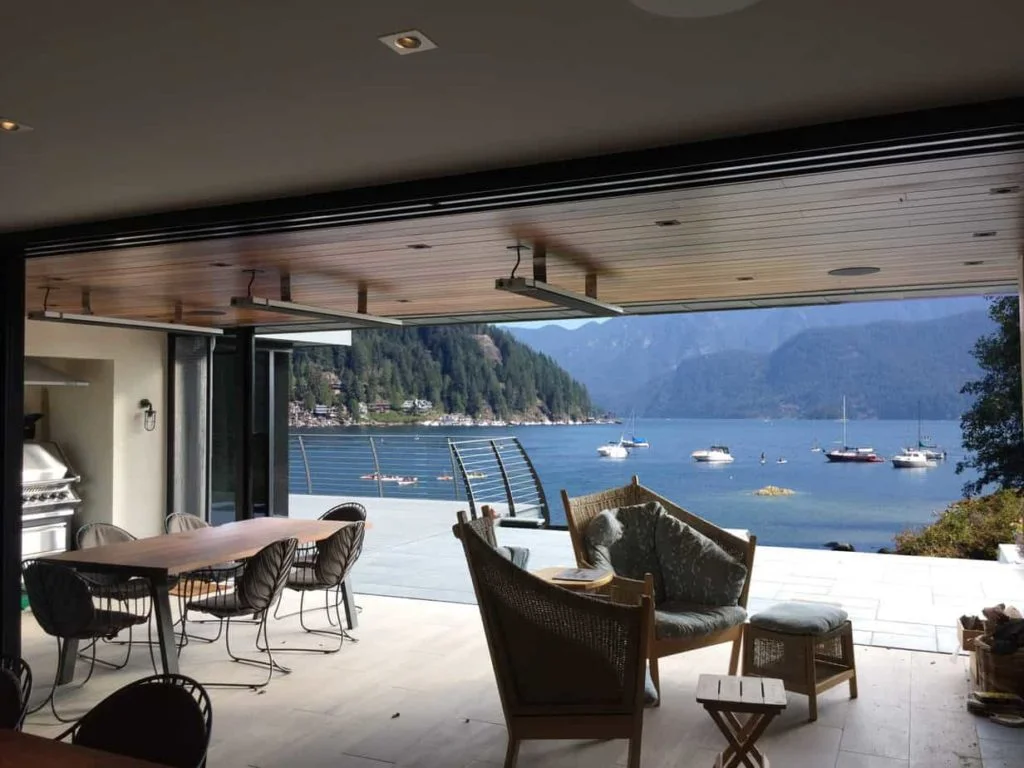 Gentle overhead heat where you want it
Herschel hanging range of  infrared patio heaters radiate heat downwards, so placing them above seating areas provides localised warmth for maximum comfort levels. Unlike gas heaters they are CO2 free when run on renewable electricity, have no fumes and no safety issues.
Create warm, comfortable zones above tables and seating areas. The deep orange, warm glow from the Herschel Hawaii creates a cosy atmosphere. If you do not want any light from the heaters and have a permanent waterproof cover, choose the Summit for a contemporary, zero light finish. Placing the heaters higher will give a greater covered area with less intense heat, lower and closer will create a smaller but warmer zone.
Need more help choosing? Take a look at our simple guide to outdoor heating for more information.
Inspiring ideas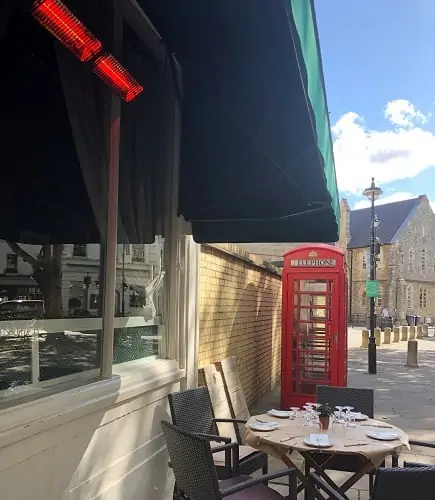 La Poule au Pot restaurant
Find Inspiration
La Poule au Pot restaurant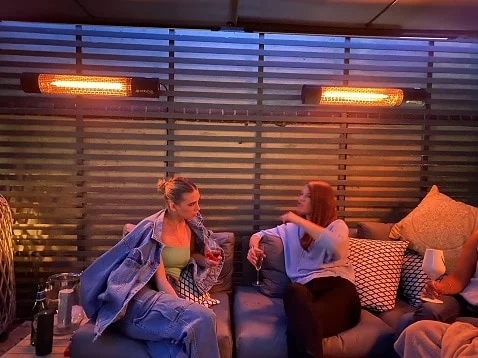 Wall mounted patio heaters
Find Inspiration
Wall mounted patio heaters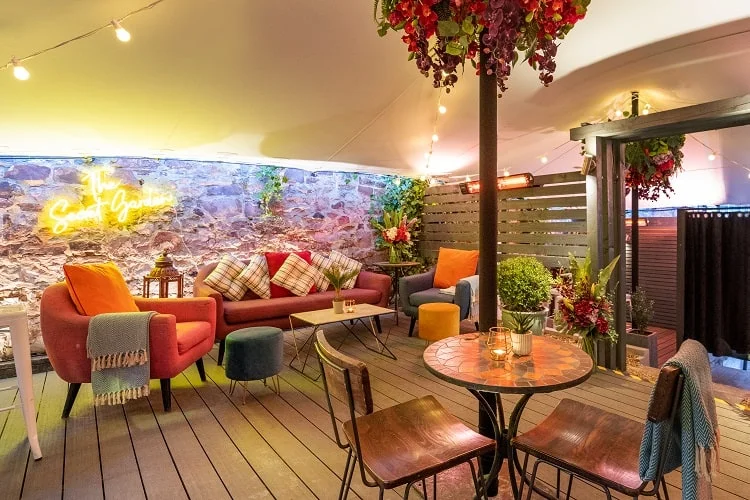 Outdoor Bar and Restaurant Heating
Find Inspiration
Outdoor Bar and Restaurant Heating
Customer Testimonials
"The Herschel heaters have proved invaluable for enabling our students to meet together outside even in the coldest weather".
They look extremely attractive in their specially designed fixings and have added to the overall aesthetics. Thanks also to the friendly Herschel staff who provided excellent guidance to help us make our plans work effectively.
"Best Contemporary Design Outdoor Heaters"
After extensive research into outdoor heaters, we decided to purchase the Herschel heaters. We are an existing customer of their indoor heaters for the last few years. We couldn't be more delighted. The heaters in design are cool & contemporary, there was simply nothing to compare to the design in the market place. More importantly, wow the heat they give! Our outside area is transformed and we can use even on a cold evening! We are property developers and these heaters have resulted in creating the most cost effective outdoor extension! The customer service from Herschel as always is first class. We opted for the Matt black option, but the Rose gold heaters looked very impressive too. Highly recommend this product.
"Makes it possible to enjoy the outdoor area"
My curiosity in radiant heating technology (as well as the need for heat) has led me to install a Herschel California infrared radiant heater in my barbecue area.  The heat can be targeted on the seating area and even in breezy conditions we are actually very comfortable. The unit makes it possible to enjoy the outdoor area at short notice without needing to light up the chiminea or breaking the bank.
David Hilton, Expert in sustainable building and energy efficiency
"Great service, fast efficient delivery, responsive team with great technical understanding of their products"
We've installed Herschel Manhattan and Miami infrared heaters at two of our venues, MOMMI restaurant in Clapham and The Rose & Crown Bar in Goldalming respectively. Very happy to recommend both the heaters and Herschel. Great service, fast efficient delivery, responsive team with great technical understanding of their products and advice on our specific installation requirements. Definitely made our outdoor spaces more comfortable for clients. David Hanson, Mint Group.