Our research at Salford Energy House indicates that Air Source heat pump costs are 50% higher to own and run than an equivalent Herschel Infrared System
The electrification of domestic heating is essential to achieve net zero and the government is heavily promoting heat pumps as the solution. But infrared is  likely to be much cheaper and far more practical than heat pumps for the majority of domestic properties.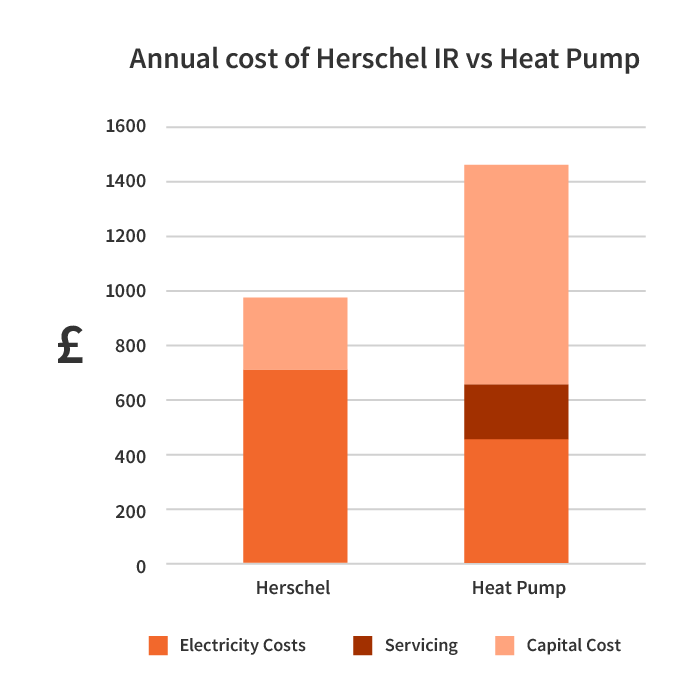 Our research at Salford Energy House, carried out by the UK's leading University heating lab, shows that for well-insulated or smaller properties, when you factor in the high costs of purchasing, installing and servicing them, air source heat pump costs could be up to 50% more over their lifetime than Herschel Infrared heating.
Herschel Infrared is typically around 3 times cheaper to purchase and install than an air source heat pump and only marginally more expensive to run.
For the same capital outlay as a heat pump you can:
Install Herschel Infrared;
Invest in making your home more energy efficient (e.g. improving insulation) so you'll run your heating less anyway;
You could also consider using some of the cash saved from buying a heat pump to add solar and battery storage to offset your energy bills.
Calculate the cost to purchase Herschel Infrared for your whole house, here
This article aims to give a balanced comparison between heat pumps and infrared based on the UK's most comprehensive independent scientific tests at Salford Energy House. You can also watch our team talking on YouTube's Fully Charged Plus channel about the results of these tests.
Electrification of heating to achieve net zero
The UK Government's Heat and Buildings strategy published in October 2021 set out the roadmap to achieve net zero buildings by 2050. The cornerstone of the strategy is to phase out gas boilers by 2035 and a future in which the electrification of heating is a mix of low carbon technologies: heat pumps, heat networks and potentially hydrogen.
"Fabric first" (upgrading the heat retention performance of buildings) is identified for increasing energy efficiency and then the target is to deploy at least 600,000 heat pumps per annum by 2028 and 1.7 million by mid-2030. That's a 4,800% increase compared to the 35,000 heat pumps installed in 2021.
As a starting point the government will be offering a £5,000 grant towards the cost of installing a heat pump. Sounds great?
But before you rush out and replace your gas boiler or install a heat pump in your new build property, you might want to consider Herschel Infrared.
Find out more
Efficiency of heat pumps versus infrared heating
For the purposes of the UK's building regulations (SAP) and energy performance, Infrared heaters are classed as "Direct Acting Electric Heaters" and are assumed to be 100% efficient, meaning that 100% of the electricity used converts to heat, ie. 1kW in = 1kW out. Air Source heat pumps are assumed to be 250% efficient (often referred to as the "COP"). So in theory for 1kW of electricity 2.5kW of heat is produced.
However, the efficiency of heat pumps falls as outside ambient air temperatures fall. This means that they become less efficient the colder it is, which of course is exactly when you need the heating.
Our tests showed that at the average outdoor air temperature in the UK heating season, the heat pump was only 173% efficient, so 1.73kWh of heat for every 1Kwh of electricity. In comparison the test showed Herschel Infrared to be 113% efficient.
So heat pumps are not as efficient as advertised in colder months and they only heat the water in the radiators to 40-50°C, meaning on colder days the system will need to run 24/7 to keep the property warm.
A correctly sized Infrared heating system is marginally less efficient, but on the other hand runs at higher temperatures and will easily cope on the colder days by reaching the required comfort temperatures with less running time.
How much energy does a heat pump use compared with infrared?
We appointed the UK's leading University in heating analysis to carry out a comprehensive fully independent comparison test between an air to water heat pump, direct acting electric convection heaters and Herschel Infrared panels:
The heat pump system used was a market leading 6kw A++ rated air to water, with water fed radiators in each room;
The convector heaters were wall mounted electric;
Herschel Inspire panels were ceiling mounted in each room controlled by Herschel MD2 room thermostats.
The test was carried out in a climate controlled chamber in which the replica of a 50m2, 2 bed end of terrace house is constructed with the external fabric insulated to Building Regulations (L1B) standards. The parameters for the test were that the house was heated to the SAP (this is the current SAP and SBEM parameters) heating schedule of 21°C in the living room, 18°C in other rooms for 2 heating periods per 24 hour period, 7-9am in the morning and 4-11pm in the evening.
The chamber within which the Salford Energy test house sits had a constant air temperature of 4.7°C throughout the tests, which is the average ambient air temperature during the 243 day October to May heating season in the UK, according to SAP. The specification of the 3 different heating systems was accurately specified based upon the calculated heat loss of the building per SAP. To ensure no bias in the results each of the tests were carried out with the same levels of ambient temperature within the house at the start point. Multiple air and operative temperature sensors were located throughout each room within the test house.
The results showed the following:
Herschel Infrared panels can run at around 1°C lower air temperature to give the same sense of comfort as convection heaters set to higher air temperatures. This is due to the direct heating of the room and objects by the infrared radiation which then begin to radiate warmth themselves.
At the same comparative comfort temperatures, the Herschel panels used 17.7kWh of electricity over a 24 hour period, and the heat pump used 11.5kWh.
We also ran the same test using electric convector heaters, which used 20kWh of electricity.
Using the convector heaters as the baseline of 1kW in = 1kW out (100% efficiency), this makes the heat pump 173% efficient and Herschel Infrared 113% efficient.
Ask Herschel for a survey and quote for your heating, here
What are the running costs of heat pumps compared to infrared heating?
Latest SAP electricity rates are 16.49p per kwh. The heating costs for a 24 hour period at these rates would be £2.92 for Herschel and £1.90 for the heat pump.
On an annual basis, using the Oct-May (243 days) heating season per SAP, the heat pump would cost (£1.90*243) = £462 in electricity and Herschel would cost (£2.92*243) = £710, a difference of £248.
But energy costs are only one factor. A heat pump system requires an annual service. This is a requirement of the manufacturer and for government grants.
What is the best investment, Infrared heating or a heat pump?
The Herschel panels and installation costs would be £4,000. By comparison air source heat pump costs to purchase and install, including the larger radiators you need, would be at least £12,000, a difference of £8,000.
The useful life of a heat pump is generally assumed to be 15 years.
The data from our tests shows that total costs over the 15 year lifespan including purchase, servicing and electricity, the heat pump would be over £7,000 more (£21,930 for the heat pump and £14,650 for Herschel Infrared heating).
These figures assume no costs for repairs or replacement of parts to the heat pump. From our research we found it difficult to find any heat pump manufacturers offering anything in excess of a free 3 year warranty.
Does the £5,000 boiler upgrade scheme grant make installing a heat pump viable compared with buying infrared heaters?
From April 2022 the UK government are offering a £5,000 incentive grant to switch to heat pumps. This would reduce the extra capital outlay of installing a heat pump instead of Herschel Infrared from £8,000 to £3,000.
Over 15 years this makes the extra total cost of ownership of a heat pump £2,280 more compared to Herschel infrared.
The grant is very limited and will only apply to homeowners and private landlords in England and Wales. It is not applicable to social housing and new build properties.

Our research figures are based on a 2 bed average insulated home. What about a well-insulated or passive properties?
We agree with the government's approach about "fabric first". The better the property is able to retain heat, the lower the energy requirement for heating is. In a well-insulated property the differential on energy running costs between infrared and heat pumps will be much lower.  The closer to passive house standards you build to, the heating requirement becomes so low that the capital outlay and servicing costs of heat pumps make no financial (or environmental) sense. Herschel's advice is to invest your budget in the construction and/or insulation of the property, not on expensive heat pump systems.
Does a heat pump make financial sense with high electricity prices?
Our modelling from the test results shows that electricity unit prices would have to rise to 50p per kWh (around double the current market rate) for the total cost of ownership of Herschel and the heat pump to end up the same over a typical 15 year period.
Do heat pumps and infrared heating work with solar and battery storage?
Both infrared and heat pumps can be used in conjunction with solar and battery storage to offset use of the grid. With the savings of Herschel Infrared heaters compared to the cost of heat pumps it should be possible to install solar and battery storage for the same budget. It is a compelling proposition for homeowners who wish to come off gas, construct new build, retrofit existing properties or for property developers
Do air source heat pumps have practical disadvantages compared with infrared heating?
As a retrofit solution they are highly disruptive to install;
90-95% of existing houses in the UK require replacement of radiators to larger sizes;
Electricity supply may need upgrading;
Planning permission may be required;
They take up valuable outside and inside space;
For many properties (e.g. apartments) it is not possible to retrofit them;
They are unsightly and noisy;
Annual and ongoing maintenance is required. No other household appliances require annual servicing and labour and parts costs will only go one way (up). Skills shortages and complexity of installation;
They often need to run 24/7 and often fail to reach the desired heating level. Do you want your bedrooms constantly heated?
Wet systems are prone to leakages and pipework heat losses;
Central point of failure – if the heat pump malfunctions you lose the heat for the entire property;
For heating just one room the heat pump needs to be running.
In comparison Herschel infrared has none of these issues and is very easy to install.
Is it a good idea to combine a heat pump and infrared heating system?
If you do want a heat pump, it is well worth considering a hybrid system, so maybe using a heat pump with underfloor heating for the living and kitchen areas downstairs to provide a base level of heat. For bathrooms and bedrooms infrared works much better – providing faster warm up times during the heating cycle and avoiding the need to "oversize" the heat pump and potentially have to upgrade the electricity supply. In addition there is no noise from Herschel panels in bedrooms and people love the feeling of the radiated warmth in bedroom and bathroom areas. Take a look at this case study which shows a hybrid system in use.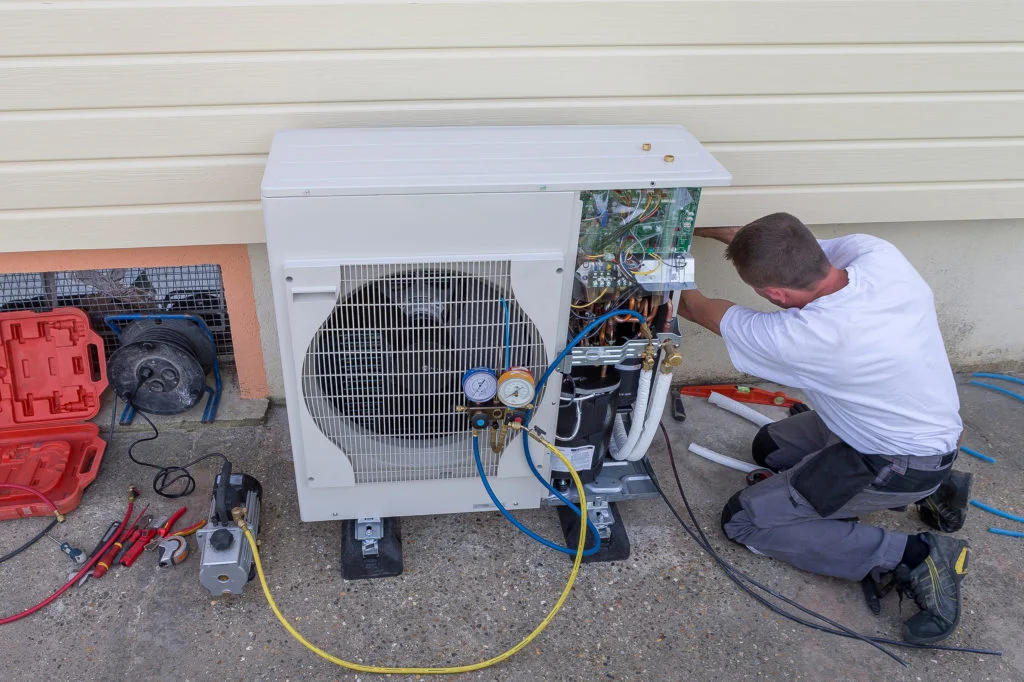 Summary: For the majority of properties in the UK, infrared is a more practical and cost effective heating system than heat pumps
Our independent tests are the first direct scientific and lab-controlled comparison of infrared and heat pumps carried out in the UK and found that the efficiency from heat pumps is far lower than the often quoted figures of 300-400%. Even at the 250% benchmark the government use, the savings on energy use are unlikely to be high enough to justify the significant capital outlay and ongoing maintenance costs compared to a Herschel Infrared heating system.
For many people, installing a heat pump as a retrofit could be a highly disruptive process and may not deliver the assumed energy efficiencies or comfort levels they hoped for. We advise our customers to invest in making the fabric of the property as energy efficient as possible and then install Herschel Infrared. Comfort levels will be higher with the additional benefit of full room by room control and App control.
You will have a zero maintenance, zero noise, discreet heating system with options to link to solar and battery storage and no concerns about leaks or a central point of failure. The installation of the heaters is straight forward and can be carried out by any qualified electrician. It is even possible to just plug and play with the Select XLS range. With the left over budget, you can probably install solar with battery storage, use the electricity towards powering your infrared system and help future proof your property against rising energy prices.
Ask Herschel for a Survey and Quote for your heating
Slimline infrared panel heaters with a 5 - 10 year warranty
Select XLS – White Frameless Infrared Panel Heater

View Range